The classic club sandwich is a turkey sandwich with a BLT stacked on top of it - 2 sandwiches in 1!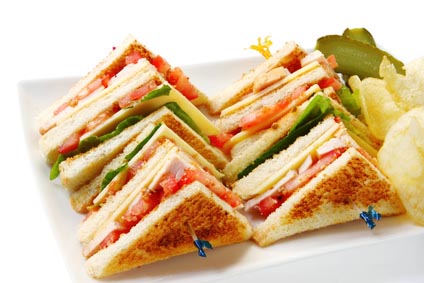 It's enough flavor to satisfy any hungry sandwich fan. Especially if you load up on all the ingredients like in the Mega Club pictured below!
Clubs have been on US restaurant menus as far back as 1899. And it is still a very popular sandwich in restaurants all over the country.
But have you ever made one at home?
Well, let's give it a try. You might be surprised how simple and fun it can be. It's as easy as 1, 2, 3 slices of bread!
This recipe is for 1 sandwich. I've kept it simple and authentic, using mustard and mayo. But you can play around with the condiments if you like and try using a basil pesto or a chipotle sauce instead. You could also use different meat choices, such as roast beef or chicken. But this recipe is written as close to the original classic club as I could get it. I hope you enjoy!
Ingredients
3 thin slices of bread, toasted - anything from white bread to whole grains
4 slices of shaved roasted turkey breast
4 strips of cooked bacon
slice of mozzarella
2 Tbsp mayonnaise
2 Tbsp honey mustard or Dijon (or just use all mayo instead)
1/4 avocado, sliced
2 slices of tomato
2 leaves of lettuce
salt & fresh ground black pepper, to taste
Directions
First, lightly toast the 3 slices of bread.
Put 1 Tbsp of mayo on a slice and 1 Tbsp of mustard on another, leave the third slice for now.
Place turkey on the slice with mayo.
Next, add sliced avocado. Salt & pepper to taste.
Cover with the next slice of bread, mustard side down. Now put 1 Tbsp mayo on the top of that same slice.
Place the tomato on top of the mayo, followed by the bacon strips, then the lettuce leaf. You may add a bit more black pepper here if you like.
Add 1 Tbsp of mustard to the last slice of bread and place it on top, mustard side down.
Secure the sandwich with 4 cocktail swords or toothpicks, about 1 inch from each of the sides. Slice sandwich in half twice diagonally, making 4 small triangle sandwiches.
Serve with your favorite side - coleslaw, potato salad or chips and enjoy this awesome sandwich!