The Reuben sandwich has a powerful savory flavor!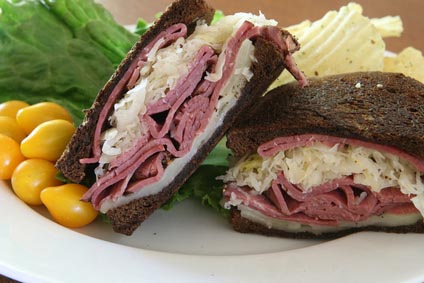 The Reuben sandwich has a powerful savory flavor and, I am not going to lie to you, it is filling. It's a great sandwich if you want something hot and you want to feel full.
What's in a Reuben?
Let's start with the bread - rye bread. I love rye bread. Rye is related to wheat, but it has higher fiber and is much more flavorful.
Because it looks so exotic, I enjoy making my Reuben sandwich with pumpernickel rye as shown above in the photo. How cool does that sandwich look? Black bread - that's so awesome. But other rye breads work for this sandwich as well. (Try sourdough rye too!)
Next there's corned beef. I usually am not a fan of beef in this form... especially since my husband likes to buy it in a tin can, similar to spam! (I don't know why meat in a can is just weird to me. Oh, wait, what about tuna?) But, put it on a Reuben and I am more than happy to eat it. 🙂
The Reuben sandwich packs a cheesy bite with the use of a respectable amount of Swiss cheese - another very strong flavor.
Then there is the sauerkraut; could there be anything with stronger flavor? It's usually a bit much for people who have never tried it!
Finish it off with a tangy Russian Dressing (see the recipe below,) or Thousand Island dressing, and somehow all of these powerful and unique flavors combine harmoniously to create one satisfying sandwich.
Try this Reuben recipe below. Next thing you know, you may start to enjoy each of these powerful ingredients on their own if you don't already.
This recipe is for 2 Reuben sandwiches.
Ingredients
4 slices of rye bread
1 can of sliced corned beef, or sliced from a deli
1/4 cup sauerkraut, drained
2-4 slices of Swiss cheese
2 Tbsp Russian Dressing or Thousand Island dressing
2 Tbsp butter
Directions
If you're using canned corned beef, saute it in a skillet on medium heat to warm it up. It also makes the texture nicer than fresh out of the can.
Butter the outsides of your bread slices. Put Russian or Thousand Island dressing on the insides.
For each sandwich, layer on a slice of Swiss cheese, sliced corned beef, 2 heaping Tbsp of sauerkraut, and I like to finish it off with another slice of Swiss cheese. It protects the bread from getting soggy from the sauerkraut. You could also use a slice of corned beef to protect the bread instead. But the extra melted cheese also helps to hold everything together.
Close the sandwiches with buttered sides facing out. Let's cook them!
In a Sandwich Maker:
Preheat your panini press or sandwich maker. Grill them until the cheese is melted and the rye bread is slightly crisp. It takes about 4-6 minutes.
In a Skillet:
Preheat your skillet on medium heat. I use medium heat so that the sandwich ingredients will heat all the way through while cooking without making the bread darken too fast.*
Grill each side of the sandwich until the cheese has melted and the rye bread is crisp on the outside. It is usually about 6-10 minutes per side.
Enjoy alone or with a side of coleslaw!
*Hint: To ensure it gets warmed all the way through, I sometimes cover my sandwich while it cooks on the first side, then I leave it uncovered while it cooks on the second side.
---
Quick & Easy Russian Dressing Recipe
1 cup mayonnaise
1/4 cup chili sauce (hot sauce) or ketchup
1 Tbsp horseradish
1 Tbsp onion or green onion, very finely chopped
1 tsp parsley, finely chopped (optional)
1 tsp garlic powder
1 tsp paprika
Mix all ingredients and chill. 🙂