Nothing is more classic than a ham and cheese sandwich! The standard pack lunch, comforting and tasty.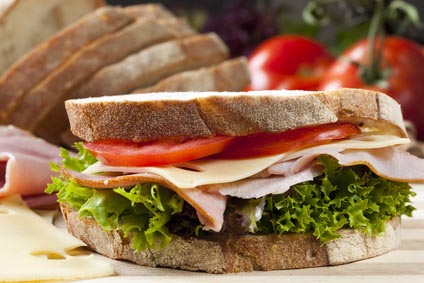 This classic ham sandwich is the cold version of a ham sandwich. For the hot ham and cheese version, check out the ham and cheese melt recipe here.
We often have leftover ham from the holidays, so I enjoy slicing it thinly and making this sandwich recipe with it. During the summer I also love to have plenty of deli meats in our fridge, including ham. My favorite right now is Black Forest Ham, but this recipe works for them all.
This recipe is for 1 sandwich.
Ingredients
3-4 slices of your favorite ham, such as black forest ham
1 tsp. mayonnaise
1 tsp. honey mustard or Dijon mustard
1 slice Swiss cheese
1 slice of red onion
1 or 2 slices of tomato
1 leaf of red or green-leaf lettuce
2 slices of sourdough bread*
Directions
Take your bread and toast it. Or Don't. It's your choice. 🙂 It always depends on my mood, and on my bread choice. If the bread is even slightly stale, toasting it makes it taste much better.
Spread on your mayonnaise and mustard.
Add your slices of ham. Try to fold each piece of ham to let a little air into the sandwich. It looks better, and somehow it seems to make it taste better!
Add your cheese, onion and tomato slices.
Add lettuce. Red leaf lettuce is a nice, delicate lettuce. But if you'd like a more crisp texture, try green leaf lettuce. Of course, feel free to experiment and choose your favorite ingredients to make this sandwich your own!
Close the sandwich up and dig in!
*Tip: Sourdough is a great choice for bread, however, with ham you have a lot of room to substitute breads. The reason for this is that the ham is quite moist, which means you don't really have to worry about moisture when picking a bread. Even toasted rye tastes great with ham.