The BBQ chicken melt is one of our favorites for a summer family gathering.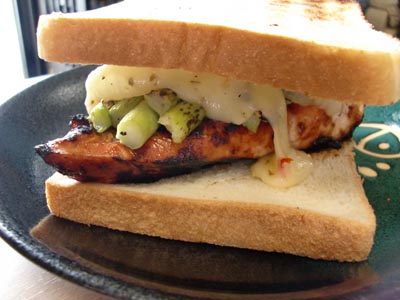 Ahh, barbecue chicken - a summer staple! This BBQ chicken melt is one of our favorites for a summer family gathering. Everyone can pitch in and enjoy creating these tasty sandwiches together. It's really simple to make on the grill, and super delicious!
This sandwich is going to be made on the grill. We like to grill on natural charcoal, but whatever you prefer is fine. This recipe is for 1 melt.
Ingredients
1 chicken breast
sliced onion
asparagus sticks
white bread, or wholegrain if you choose*
pepper jack cheese
salt and pepper
oil for your grill
BBQ sauce
*You might have noticed that we used white bread for this recipe. We almost never do that, but in this case its for the sake of BBQ tradition. And it ensures that the primary flavor is the chicken, not the bread.
Directions
Slice the onion into about 8 or so slices, onion ring style. Try to keep the rings together as it makes the onion easier to deal with on the grill.
Lightly oil the asparagus and onion and grind some salt and pepper on both.
Place your veggies on the grill over a low temperature spot. Turn them frequently.
Remove onion when they are starting to brown and turn translucent. Remove the asparagus when it gets soft. Set aside.
Add your chicken (without sauce) to a lightly oiled grill. Grill for 6 minutes. Flip the chicken and grill for 6 more minutes.
Now its time to add the BBQ sauce. (Had it been added earlier, it would have burned before the chicken was done.) Brush on a generous amount of sauce and let the chicken cook for 1 minute more on each side.
The last thing to cook is the bread. Very quickly toast it on the grill. The goal is to get one side golden brown. Toasting will add flavor and help keep the sandwich from falling apart. You only need to grill one side.
Lets put it together!
Place the bread toasted-side-down. Next, place the chicken. Then add the half sticks of asparagus over the chicken. Then some onion slices. Add a layer of cheese.
Put the open sandwich on a tray and broil for 2-3 minutes to melt the cheese and help secure the ingredients.
Top with extra BBQ sauce, if you like, and close it up!
Enjoy your BBQ chicken melt!