Chicken melt sandwich is yummy melty goodness.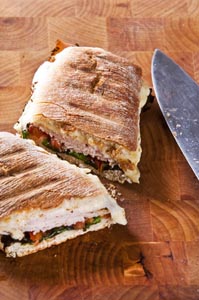 A chicken melt combines savory flavors and melted cheese to create a delicious and tasty sandwich. This version of the sandwich is going to use whole chicken breasts, rather than shredded chicken.
Lets make a couple. This recipe is for 2 melts.
Ingredients
2 chicken breasts
4 slices whole wheat, or 2 Italian bread rolls
1 ripe tomato, sliced
1 half onion, sliced
1 clove garlic, sliced
several slices of cheese; Swiss, mozzarella, or pepper jack
handful of baby spinach leaves
2 Tbsp butter or olive oil
salt and pepper
thyme (dried)
Directions
I like to use grilled chicken breasts. Baking them at 375 for 40 minutes is another option. Or you could use sliced chicken breast from the deli.
To grill them, first lightly brush a little olive oil on each breast and sprinkle lightly with salt, pepper and thyme.
Place the chicken on a grill over medium heat. Grill the chicken for about 7 minutes on each side. Be sure to slice into the thickest part of the chicken to check that it's done. Set chicken aside to rest.
Chop the onion and garlic into thin slices. Slice the tomato and set aside.
Melt a small amount of butter in a pan on low/med heat. Add the onion and garlic and saute until the onion is mostly clear and soft.
Lightly butter, or brush with olive oil, the inside of your bread.
Add baby spinach leaves on the bottom buttered side. Then add sliced tomato. Place the chicken breast and cover with the onions and garlic. Top with your cheese slices.
Broil* the open sandwich for 2-3 minutes until the cheese melts. You want the cheese melted enough to hold all the ingredients in place. Close it up and you are done!
*If you have a sandwich press, simply close the sandwich and cook on your press for 4-6 minutes until cheese is melted and sandwich is heated through.
Enjoy your Chicken melt!